The Family Circus Est. 1992

Phone / Text 07894 51 52 54
Homepage..... Dr. Colin ....Booking Info ......History.....Clients.... Gallery .... Info Page
Workshops .... Outside Setup ....Contact .... Week of Circus .... C.V.
History
Circus Box was formed by Greg Wells in 1992 to enable children of all ages and abilities the chance to be a part of the circus, even if for only a couple of hours.
It all started in 1990 when Greg started helping out Tony Ashton with the Lewes Youth Circus (Circus Pipsqueak), East Sussex, firstly with unicycling as he had learned the art in 1989. The youth circus was working towards their first christmas show and Greg and Tony ended up on stage as ringmaster (Tony) and sidekick The Clown with no name (Greg).

The show with 25 kids between the ages of 4 and 17 was a great success and the youth circus thrived, moved practice venue and toured local public events such as fetes and festivals during the summer of 1991.
It was during this time Greg and Tony had started to perform together as the Ravioli Brothers and were being asked to perform at public and private events as well as adult and childrens parties.
The inevitable then happened, people started to ask about circus workshops and if we could provide them for their youth groups as the success of the Lewes Youth Circus was spreading and people wanted to experience what the youth circus kid's were.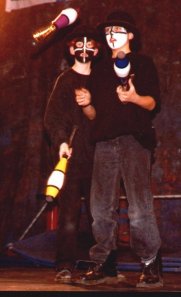 Tony with 3 kids (now four), a proper job and a mortgage couldn't spare any more time other than for performing, so Greg took the suitcase by its handle. With the help of a trolly and train or a bus he would set of with a selection of circus equipment and get paid to visit local youth clubs and cub scout groups, letting all hell break loose when the demo was over and the equipment was free for all.
It was in 1992 when Greg made his big leap, he wrote a business plan and sent it to the Princess Youth Business Trust (PYBT) who in turn gave him a grant to help set up Doctor Colin's Circus ( Circus Box).
He learnt to drive, got a mini estate car and with the help of the PYBT publicity machine he got youth clubs, kids parties, fetes, festivals and all sorts of other jobs coming out of his ears, he then got a bigger vehicle, painted it very colourfull and started to get jobs all over the south of England.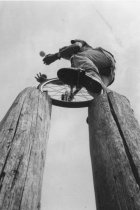 In 1993 Greg took over the running of The youth circus in Lewes which continued to flourish but only ran during the winter months as Greg was on the road from May to September. Circus Box continued to grow and during the summer months up to 15 people would be going to festivals and fetes all over the south in the name of Circus Box either in groups or on their own, as well as all this, family life had happened, Greg & Shealagh had a son on 12th April 1995 who thay called Otto.
It was hard work for Greg to sort out all the logistics for everyone and also concentrate on his own perfomances and workshops so in 1997 he went back to his roots and started to work for and by himself again with his trusted helpers for those bigger events. Greg has since worked in Dubai and with his family which had grown again on 29th January 2000 when his Daughter Molly was born, has toured the UK and Europe, he is currently living in Yorkshire, Sussex and sometimes inbetween.

Greg still has dedicated assistants and without their help and dedication to
the circus arts would not be able to provide such a range of quality circus entertainment.

Each year Greg and his helpers work with as many as 18,000 children and adults providing circus activities areas,
circus workshops, performances and residential workshops culminating in performances
by the children wheather it be over two days or two weeks.

Come and join in the fun, book CircusBox now for your event.
CircusBox never charge the children directly for the workshops, on principal,
event organisers are responsible for this as this gives the children more of a feeling of being part of the circus.
Juggling, plate spinning, diabolo, unicycling, stilt walking, devil-sticking, clowning / slapstick, prop building, parachute games, pedal go balance, performance skills, face painting, staff turning, poi, balancing, fire eating (adults only)! and more.

Shows -Workshops -Previous Clients -Booking Information -Print and Read Page Picture Gallery :-)Doctor Colin Circus Box Contact Home
Privacy Policy Dodge50 web forum
©Circus Box 1992--2020