The Family Circus Est. 1992

Phone / Text 07894 515254
Homepage..... Dr. Colin ....Booking Info ......History.....Clients.... Gallery .... Info Page .... Performances ....
Workshops .... Outside Setup .... Contact.... Week of Circus .... Kids Parties . C.V.
Performances and Demonstrations
Pandemonium Now with added D'erik the Dentist sometimes.
Doctor Colin in Pandemonium has been enjoyed by thousands of children and adults
throughout the U.K. at Arts Centers, Theatres, Festivals, Carnivals and other public and private events.
Laugh as his wayward suitcase takes on a life of its own, scream as he balances
bigger and bigger objects on his chin, be dazzled by his diabolical diabolo and
wonder as he wobbles on to his one wheel finale.
Lolly-pop signs, chairs, suitcases, cups of water and unicycles feature heavily
with Dr. Colin, and he exploits them with no mercy.
Audience participation, improvisation, mime, slapstick clowning and an
endless stream of bad jokes are combined to give 45 minutes of pure "Pandemonium" .
Doctor Colin in "Pandemonium" can be performed inside or out and is suitable for children of all ages.

---
Out 'n' About
When Doctor Colin takes his suitcase Out 'n' About , he interacts with people
and objects on the street providing: umbrella services, unicycle shopping trolly
removals, suitcase shenanigans and a mixture of circus skills too.
Doctor Colin prescribes his medican of laughter to people of all ages he can
perform on the street, at fetes or just about any public or private function.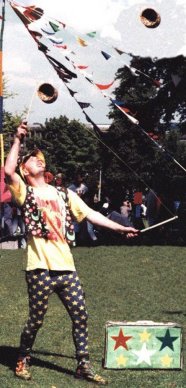 ---
For adult or childrens events, let Doctor Colin take the pace and interact with the
audience bringing his own style of introduction to those to be introduced.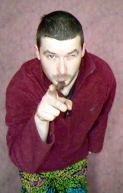 ---
Demo Show (20 min)
Let Doctor Colin perform the skills of the circus to you, juggling, diabolo. plate spinning,
unicycling, devilsticking, slapstick routines, balancing and more, and then why not try some yourself? See Workshops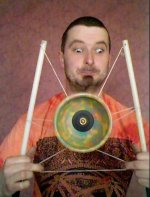 ---
Show and workshop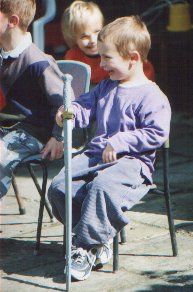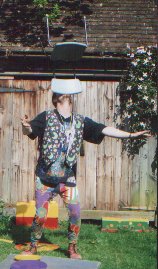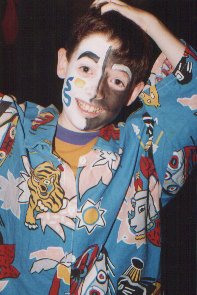 Whether it's for a Wedding, Christmas party or other special occassion, let CircusBox bring the Circus to you.
Enjoy the thrills and spills of the Circus in your own home, school, club or just about anywhere.
Let Doctor Colin take the Children (and Adults!) into the world of the Circus with his Interactive Show, Workshops and Circus Games Parties.
---
What they say
Thankyou very much indeed for giving up so much of your time to perform at Buckingham Palace recently.
Your splendid and amusing acting made all the difference for me and all the other guests arriving at the reception.
You provided a remarkable spectacle on arrival and everyone was greatly impressed.
This brings my very best wishes and heartfelt appreciation.
Yours most greatfully
Charly
H.R.H. Prince Charles
".high energy....high quality....energetic and accessible....an innate ability to inspire confidence and enthusiasm....commitment to his craft...thoroughness of a true professional...an unending appetite for encouraging people to enjoy themselves"
Sally Staples, Tunbridge Wells Arts Development Officer.
"Brilliant! Wacky performances, excellent workshops and a laid back flexable attitude, a must."
"CircusBox has provided the best free to public drop in circus workshops this City has seen, see you again next year"
Winchester Hat Fair, U.K.'s Biggest Celebration of Street Performance since 1974-
CircusBox at the Hat Fair Winchester, First weekend in July every year since 1994
"The look of absolute joy on the childrens faces is wonderful. He has them in the palm of his hand and his energy is inexhaustable."
Head Teacher Penny Orme, Townhill infants school, Southampton.
"The only problem with crowd control at last years Hat Fair ('03) was someones dog got stolen.
The Highlight of Hat Fair 2004 WAS THAT DOG!"
Sian Thomas, Director of celebrations, Winchester Hat Fair.
Talking about Jak the CircusBox Family dog who does high jumps under street lamps for no apparant reason?

Come and join in the fun, book CircusBox now for your event.
CircusBox never charge the children directly for the workshops, on principal,
event organisers are responsible for this as this gives the children more of a feeling of being part of the circus.
Juggling, plate spinning, diabolo, unicycling, stilt walking, devil-sticking, clowning / slapstick, prop building, parachute games, pedal go balance, performance skills, face painting, staff turning, poi, balancing, fire eating (adults only)! and more.

Shows -Workshops -Previous Clients -Booking Information -Print and Read Page Picture Gallery :-)Doctor Colin Circus Box Contact
Email doctor@circusbox.co.uk or phone / text UK Mobile 07894 515254
Privacy Policy ©Circus Box 1992 - 2020 Dodge50 web forum