The Family Circus Est. 1992

Phone / Text 07894 515254
Homepage..... Dr. Colin ....Booking Info ......History.....Clients.... Gallery .... Info Page .... Performances ....
Workshops .... Outside Setup .... Contact.... Week of Circus .... Kids Parties . C.V.
Circus Parties.
Parties available in East / South Yorkshire and North Linconshire, if you live further away just ask for prices and availability.
Whether it's for a Birthday, Christmas or other special occassion,

let Dr. Colin from CircusBox bring the Circus to you.
Enjoy the thrills and spills of the Circus in your own home, school, club, village hall or just about anywhere.
Let Doctor Colin take the Children (and Adults!) into the world of the Circus with his Interactive Show,
Workshops and Circus Games Parties.
---
Option 1.. A 45 minute performance.
A One-man slapstick interactive circus show.
'Doctor Colin in Pandemonium Party'
Laugh as his wayward suitcase takes on a life of its own, scream as he balances bigger and bigger objects on his chin,
be dazzled by his diabolical diabolo and wonder as he wobbles on to his one wheel finale.
Prices start from £75.
Suitable for children 5 years and over.

---
Option 2 ..A Performance (as above) + one hour of circus skills fun.
Circus skills workshop with activities such as Plate spinning, juggling, diabolo,
pedal go balance toys, flower sticks, parachute games and more.
Prices start from £130.
Contact Dr. Colin for more details
Parties available in East and South Yorkshire and North Linconshire, if you live further away just ask for prices and availability.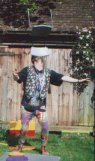 ---
All you do is provide the space, the food and the kids and remember...
Doctor Colin can entertain all ages from 5 to 109 years.
Each Party is Tailor-made to your specifications.
CircusBox Parties are run by Greg (Doctor Colin) Wells
who has been providing Circus entertainment since 1990.
---

.........................

.........................

Workshops and Performances for Schools, Secure Units, Drama groups, Fetes, Carnivals,
Promotions, T.V. Scout and Guides Circus Badge, Public and Private Functions.
CircusBox is experienced in providing Circus Skills Workshops and Performances for children and adults with special needs, Please contact us for more information or to book CircusBox for your event.
See The National Deaf Children's Society's Review on the Evening Chronicles web site. Link Here


CircusBox is covered by Full Public Liability Insurance.
For Terms and Conditions of booking see here.

Come and join in the fun, book CircusBox now for your event.
CircusBox never charge the children directly for the workshops, on principal,
event organisers are responsible for this as this gives the children more of a feeling of being part of the circus.
Skills on offer
Juggling, plate spinning, diabolo, unicycling, stilt walking, flower / devil-sticking, ribbon twirling, clowning / slapstick, prop building, parachute games, pedal go balance, performance skills, face painting, Tightrope walking, staff / fire turning, poi, balancing, fire eating (adults only)! and more.
Circus workshop, circus workshop.

Email doctor@circusbox.co.uk or phone / text UK Mobile 07894515254
Privacy Policy ©Circus Box 1992- 2020
CircusBox is an active sponser of the Dodge50 Forum